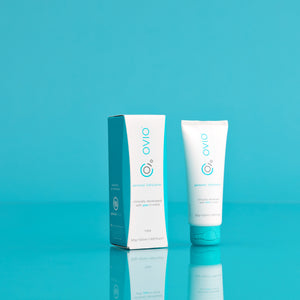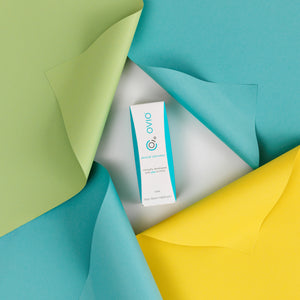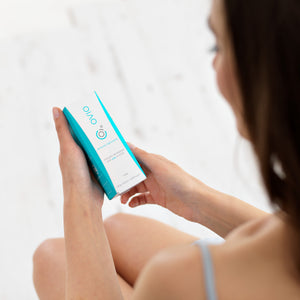 OVIO Personal Lubrication Tube (50ml)
Please Note: The OVIO Tube is exclusively available to purchase on Amazon. See the OVIO Tube on Amazon!   OVIO personal lubrication has been perfec...
£3.99
This item is currently sold out.
Add to Compare
Size Guide
Size Guide
Which size OVIO Cup is right for me?
The OVIO Cup comes in 2 sizes, small and regular. It's important to make sure you have the right size to ensure a good fit and prevent leakages.

Many things can contribute to your perfect fit. Are you a first-time cup user, do you have a heavy flow, or have you given birth vaginally? It can be a bit of a minefield, and there's no exact formula for everyone - but we've tried to make your decision as easy as possible!
1. As a general rule, if you're under the age of 30, and you have not given birth vaginally, we'd recommend using the small OVIO Cup (the pink OVIO Cup).
2. If you're over the age of 29 or have given birth vaginally, we'd recommend using the regular size OVIO Cup (the purple OVIO Cup).
Other factors to consider
For those with a low cervix, a small size may be more appropriate.
For those with a high cervix, you may find the regular size to be a better fit.
If you have a heavy flow the regular size may be a better fit – it's slightly larger and can hold more fluid.
If you have a petite physique the small size might feel more comfortable.

With that being said, we understand the generalisation above isn't suitable for everyone, after all we all have different bodies. That why if you end up with the wrong size, we'll replace it for free – see below for more detail.
Size replacement guarantee

If something doesn't feel quite right, don't worry, we're here to help! It'll take a few cycles to get used to the OVIO Cup, but if it's still not feeling right after that, you might have the wrong size. If you've followed all the steps above, and you're still not completely confident with your OVIO Cup size, we'll send you another size, free of charge, no questions asked.

This guarantee is available for purchases made within the last 90 days. Please get in touch with us via this form and we'll get another size sorted for you.
Please Note: The OVIO Tube is exclusively available to purchase on Amazon. See the OVIO Tube on Amazon!
OVIO personal lubrication has been perfectly blended to offer long-lasting silky smooth lubrication, to enhance the pleasures of intimacy. Intensify your love life with OVIO.

Our 60g OVIO personal lubrication pump can be dispensed at any angle, it's mess-free and easy to use – whatever position you're in. And it's 100% recyclable.

With OVIO a little goes a long way, just push gently on the pump and smooth the lube on to your intimate areas.

OVIO personal lubrication is compatible with silicone, latex and rubber condoms and it won't damage sex toys.

Want to try another format? Also available in 60g pump bottles.

Ingredients:

Purified Water
Glycerine
Propylene Glycol
Hydroxyethyl Cellulose
Sodium Benzoate
Polysorbate 20
Disodium EDTA
Lactic Acid
Nobody likes complicated delivery preferences, and nobody likes to wait. That's why we've ditched both!

All items on the OVIO website will now be shipped via Royal Mail or Amazon Logistics, using their super-speedy next-day delivery services. All you have to do is place your order before 4pm (Monday to Friday), and it'll be with you the next day. Orders placed over the weekend or on a Bank Holiday will be shipped the next working day via Amazon Logistics next-day delivery.

And the best bit? It's only £2.50.

*UK delivery only.

Not in the UK? All of our products are available on Amazon with international shipping.

Easy refunds.

Sometimes you just don't like it – don't worry, we get it.

If for any reason you're not completely satisfied with your order, please contact us on hello@ovio-collection.com within 30 days of purchase and we'll refund you the total cost of your order including postage fees.

Please allow up to 14 days from the day the refund is processed.

Discreet packaging.

To ensure your privacy, all items will arrive in discreet unbranded packaging.

If you have any questions relating to our packaging, please don't hesitate to ask: hello@ovio-collection.com.